When it comes to printing sandwich labels some producers just need simple black text ingredient or allergen labels and some need full colour, all singing & dancing labels. The good news is we cover all bases and will have a label printing solution for you.
What options are there when printing Sandwich Labels?
1
Simple black thermal text & barcodes – Ideal for simple, informative ingredient labels or just conforming with regulations
2
Over printing black text onto a pre-printed label – Great to give your label colour or branding while keeping the cost down by only adding the unique data such as ingredients, best before etc. 
3
Print full colour labels on demand – If you need unique labels, your branding changes, you white label or offer any kind of bespoke service then printing everything in one go speeds up production. It also keeps cost down if producing short runs. 
Why would you print sandwich labels in-house?
Taking control of your label printing gives you exactly that. Control!!
Only print what you need so there should be no waste.
Print as many or as little as you need. Even print single labels perhaps for testing packaging, proofing or trade shows.
Keep best before dates & unique content correct by printing as you produce.
Standardise your sandwich label shape so you only need to carry one or two label shapes. Great for stock control.
Whether you print 1 or 1000 labels they will all look the same.
So what label printers are good to print Sandwich labels?
This depends on what you're trying to do so here are a couple of options and explanations as to you would us this.
1

GoDEX RT200 2″ Thermal Label Printer – £298 ex VAT

 
This is a direct thermal or thermal transfer label printer. This means it can print either with or without a ribbon depending on the durability you need on the label. This we can help you determine.
With this sandwich label printer you can print black text, super fast with minimal cost per print. This will be points of a penny per label in cost. It's great for those needing clear, simple, durable, low cost labels for their sandwiches.
Also comes with GoLabel Software included in the cost. This software is great and allows you to design your labels including all allergen info. If you define your allergens it will also automatically print them correctly laid out (Bold or highlighted) so you can't accidentally print something incorrectly. Most printers charge extra for the software and that's what makes this printer or it's bigger brothers ideal for printing sandwich ingredient labels.
More info on the GoDEX RT200
2

GoDEX RT730i 4″ Thermal Label Printer – £495 ex VAT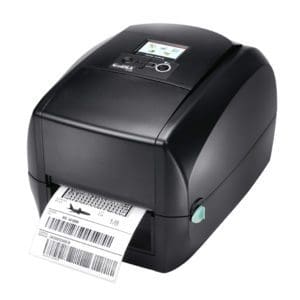 Again this is a direct thermal or thermal transfer label printer but it prints an extra 2″ wider. The label you're printing will determine your need for this but the GoDEX RT730i will print more labels per day, has a built in screen for recalling previous or saved labels and it a much higher res than the RT200.
It has the same features as above and more. Ideal for those overprinting on a pre-printed label perhaps. You might just have a standard label with your logo or branding that's consistent. You can then apply the unique data each time you print giving you a uniform to your output without sacrificing some of the flexibility or black thermal printing.
GoLabel is still included with all of the allergen & ingredient display benefits so a printer like this will future proof your sandwich label production. With Natasha's Law coming into force in the summer of 2021 it will be as important as ever that your sandwich label printing is correct and accurate.
More info on the GoDEX RT730i
3

Afinia L801 – Industrial Full Colour Sandwich Label Printer – £5995 ex VAT
The Afinia L801 is for those needing high volumes of full colour sandwich labels printed on demand. If you need 5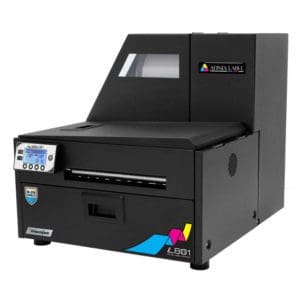 full colour labels or 1000 it doesn't matter. The Afinia L801 will be able to handle it and they'll be printed in no time. This prints at either 6 or 12 inches per second so you can print large batches of labels in minutes if needed. Print wrap around sandwich labels or offer a white label / bespoke sandwich service. Get your customers artwork and print them only what they need on demand.
The Afinia printes don't come with any software but you can print from any Windows based graphics package. If you have a designer or marketing team wanting to stand out then this might be the label printer for your sandwich labels.
More info on the Afinia L801
These are only 3 from a very large range which we are using as examples. You will most likely slot in somewhere in-between so let us work out what's right for you.
Still don't know which sandwich label printer might be right for you?
Don't panic!! This is what we're here for and we can guide you through the process to ensure you get the right solution to fit your requirement & budget. You can send us your artwork for samples and we run most printers in-house should you want to come and have a demonstration.
We'll cost the printer, running costs and support to give you a true cost of ownership so there will be no hidden surprises and you can make the best, informed decision on your sandwich label printing.
Get in touch today and find out how we can help you take control of your sandwich label printing.
Get in touch