The world of CBD is growing rapidly and we're finding more and more producers are at the point of needing to produce their own professional labels. You can outsource to a point but if you're looking to offer a white label service or label personalisation for CBD products then printing in-house is the answer. For both short or fairly long print runs you can print CBD Labels instantly and if needed finish them too. I'll explain finishing in more detail shortly.
Where to start with printing CBD Labels? 
Just because you don't have the budget for a full label finishing solution doesn't mean you can't produce your CBD labels in-house. Printers like the Afinia L502 & Epson C6500 will allow you to take pre die cut labels and print your own professional CBD labels. Here at HD Labels we can make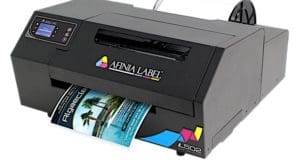 blank labels to any shape or size with many material options so you can create a label to suit your product. You would then take these rolls of blank labels and put them through your label printer. This means your only setup costs are the printer and your blank labels.
Costs: The Afinia L502 & Epson C6500 are both around £2400. There are smaller printers like the Afinia L301 that come in cheaper but they don't use Pigment inks. Pigment inks are more durable compared to standard die inks so this will improve the overall life & quality of the label. This is why I would recommend a pigment ink or Watershield printer.
Which Printers usually work well for CBD Labels?
There are many label printers out there but here are a selection that we already have customers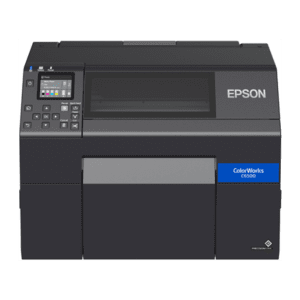 printings CBD Labels on.
Entry Level: Afinia L502 & Epson C6500 – Good quality print using pigment inks for durability. Ideal for smaller volumes as cost per print is fairly high compared to the next level of printer.
Mid to High Level: OKI Pro 1040 & 1050 (1050 also prints white) – Good quality toner based print so very durable and faster print. Great for printing white and works well on foils and clear material.
High Level: Afinia L901 Plus – Uses Watershield inks for good durability but very fast with low cost per print and high quality. Ideal when running in tandem with a finisher as it prints up to 220mm wide material allowing you to squeeze as many labels on a page as possible and cut them with the finisher.
Check out our full list of label printers – Label Printers
How can you produce custom shape CBD Labels?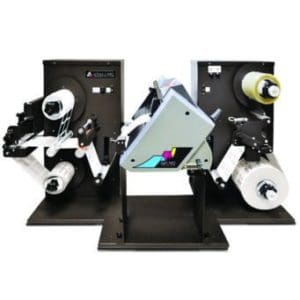 Producing custom shape CBD labels & adding a laminate for added durability / change of look isn't as difficult as it sounds. You will need a label finisher like the Afinia DLF220s. This machine when paired with a label printer allows you to take your printed material and cut your label to any shape or size with minimal setup and no setup costs per job.
How do label finishers work?
Firstly you would print onto continuous material rather than pre die cut labels. This means you can print any shape or size you want. When you print your label you also print a black reg mark in the bottom left of the design. This is what the finisher uses to ensure it cuts correctly.
Next you take your printed continuous roll and load it onto the finisher. Here you can apply laminate if required and then cut your labels. This is done using a PDF template of the cut line and a web cam loaded onto the finisher pics up the registration mark you printed and cuts your labels. The labels are then cut down, waste removed and they're wound back onto rolls ready for application.
This process is ideal for those needing many shapes and sizes or needing laminate. There is minimal setup time and zero setup cost so the is the cheapest & quickest way to produce short run CBD labels in various sizes.
We run all of this machinery at HD Labels so if you would like a demo / video demo to see the machinery in action please let us know. You can also send us your artwork for free samples!
Get in touch
How can you now apply your labels to your CBD bottles?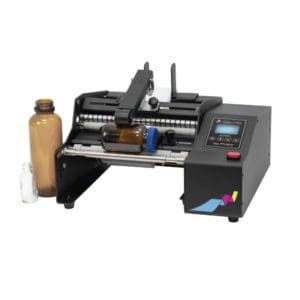 You have your rolls of labels so you can either apply these by hand if they are small quantities maybe or you may have a fully automatic production line which will do this for you. But what if you have quite a few labels to apply but you don't have ten's of thousands of pounds for a production line? How's about our low cost "semi automatic" label applicator range?
Label applicators start just north of £1000 but they will allow you to speed up your application while giving you a cleaner, smoother more accurate application. You basically load your bottle or jar into the applicator, press the foot or table button and your label is applied. Simple and quick! You can even apply front and back labels.
Check out the video below showing our Bottle Matic applying labels.
Other models are available here – Label Applicators
For help and advice on producing CBD Labels in-house please feel free to get in touch and talk through your requirements with our team. No matter how big or small we should be able to help advise you.
Get in touch