What is Memjet Technology?
Memjet is a print technology that is sometimes referred to as "Waterfall Technology". Memjet is used in high speed, full colour printers to give a high quality print at a very low cost. Memjet uses a fixed print head so unlike conventional inkjet printers where the cartridges or head moves back and forth during print. The Memjet print head is fixed and is the width of the material it's printing on. This way it's only the material that moves underneath the head as it's printed.
Key Features of Memjet Printing
Full colour edge to edge printing.
High resolution – Up to 1600dpi.
High Speed – 6 or 12 IPS (Inches per second).
Fixed, full width print head, enables high speed printing.
Dye based Inks – Low cost, friendly inks but not UV, water or chemical secure.
Are there any negatives with Memjet?
To be honest if you look after you label printer you should have great results. However environment can play a big part in the quality and life of your print head. If it's very warm / cold or your room temp fluctuates dramatically then your print quality might be effected.
Your quality can also be effected by materials that have a huge build up of static. PP materials can have this issue. We recommend you test any material with your printer before purchasing. We can help you with this.
The material you print on needs to be "impact dry" inkjet material. Not all inkjet material will work as you'll see a smudge in the print if the ink doesn't dry straight away. This is because Memjet is so fast it can't have any kind of drying time. It needs to be instant. Again it's important to test this. We have a huge range of materials.
What label printers use Memjet Technology?
Afinia are a Manufacturer that have taken the Memjet print engine and added it to their label printer range. Although there are a few Memjet label printers out there they don't all work and run in the same way. Make sure you look closely as although the engine is the same the machine around it makes a huge difference in how the Memjet engine behaves. Here at HD Labels we've worked with and used most label printers and the guys at Afinia really make the most of the Memjet print engine.
The Afinia L701, L801 and L801 Plus all use the slightly older NorthStar Memjet print engine. This is still a great engine and the quality / speed is equal to the newer Sirius Memjet print engine. What's changed is how the print head is serviced. The NorthStar engine has it's service station below the material. So if you need to clean the print head fully then the material must be cut allowing the wiper roller access to the print head. The Sirius print engine has it's cleaning station above the material. The head lifts from the material which allows the wiper roller to slide underneath for cleaning. This means no cut in the material and you can leave a printer running the Sirius engine threaded with material all the time.

The Afinia L901 Label Printer – Uses the Sirius Memjet Print Engine
The Afinia L901 runs the Sirius Memjet print engine. If you're running your label printer inline with a finisher or slitter / rewinder then not cutting the material until your roll if finished will save you a lot of time and hassle. We run the L901 on digital label presses such as the DLP2100 (shown below).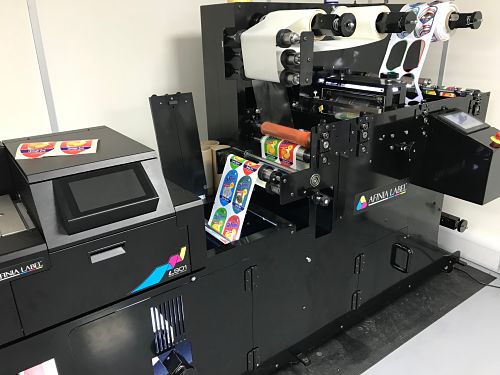 The Afinia DLP2100 – Digital Label Press running the Afinia L901 inline
So what does a Memjet Print Head look like?
The Memjet print head looks the same across all Memjet printers but they're programmed and tweaked depending on which printer you have. For example the Memjet head inside the L701, L801 & L801 Plus is the same where as the L901 is different. Although it looks the same you can't swap between the NorthStar & Sirius engine.

This picture is of the underside of the Memjet print head. The orange part of the print head folds around onto the side of the head and contains the contacts that connect to the printer. The grey base surrounds the black line as shown above. This black line contains 70,400 nozzles that eject ink droplets between 5 colour planes. These nozzles are so small that you can actually have issues with several of them close up and the output will still look great.
What can you do to improve the life of a Memjet print head?
Environment is big factor when it comes to getting the most out of your Memjet print head. Here are a few recommendations we give our customers. These definitely help with print head longevity.
Leave your Memjet Printer on. It will regulate temp, periodically clean & balance the printer environment so it's ready to go when you need it.
Bag or box your blank labels. When you aren't printing don't leave your labels on the side collecting dust. You will pass this onto your print head and will have problems.
Don't touch the print head. It's tempting to just give it a wipe or use some alcohol to clean it but this will most likely damage it rather than clean it. A Memjet print head is very different to a thermal head and to be cleaned in a very different way.
Consistent room temp. If you're able to have a steady room temp of around 19 degrees then you'll get the most consistent print output. The ink is water based so if it's freezing the ink will thicken and effect quality.
Where can I get technical support, help or replacement Memjet print heads?
Great news! You're already in the right place. Our trained engineers know all the do's & don'ts as well as a few tricks we've not shared here so feel free to get in touch should you need any help with your Memjet label printer. We offer free advice on all things label printing so make the most of our experience. Check out our online store for print heads and printers or contact us using the details below.
Call 01264 335118 or info@hdlabels.co.uk 
Shop Memjet Label Printers
Shop Memjet Print Heads
Thanks again
HD Labels Tech Team